Sizzle and Sear's Rating:
Introduction: ThermoWorks ChefAlarm Review
After falling in love with the ThermoWorks Thermapen, I started to look at the ThermoWorks ChefAlarm series. The main reason for needing an additional thermometer was to monitor cooking temperatures over time, such as a roast in the oven, deep frying oil, or a long slow smoke on the barbeque. While a Thermapen is great for doing a quick temperature check, it can't be left in the food over the duration of a cook.
The ThermoWorks ChefAlarm is a leave-in-food thermometer that can be left in the food for the duration of the cook. It is designed for the commercial kitchen, coveted by home cook enthusiasts, and comes with a lot of really nifty features. First, it not only has a high temperature alarm but also a low temperature alarm. The latter is very useful when it comes to ensuring that your temperature doesn't fall into the danger zone where foodborne pathogens multiply at an alarming rate; think when smoking meats on a charcoal grill. The low temperature alarm is also useful when making yogurt or monitoring the temperature of refrigerated foods.
You can also see the highest and lowest recorded temperatures at a glance, which allows you to tell how hot or cold your food got when you weren't actively monitoring it. Another useful feature from a food safety standpoint.
The ChefAlarm can fold up so it can easily sit up and be read on the counter, or with its back magnet, it can be stuck to a metal appliance, such as a nearby fridge, to keep it out of the way of your cooking.
A Durable and Accurate Leave-In-Food Thermometer
When you hold the ThermoWorks ChefAlarm in your hand, you can tell it's durable and well-built, just like the Thermapen. Overall it's got a solid feel and doesn't feel flimsy at all.This shouldn't come as a surprise as ThermoWorks' products are frequently used in commercial kitchens where durability is especially important. Even though I don't run a commercial kitchen, I've been through my fair share of cheap thermometers, so the durability of the ChefAlarm is much appreciated. I've owned both my ChefAlarms for over five years now and both are as good as new.
Durability doesn't matter if a thermometer isn't accurate; luckily, the ChefAlarm is extremely accurate at both high and low temperatures. In order to test for this accuracy, I prepared both a cup of ice water and a pot of boiling water. A cup of ice water should measure at 32 degrees Fahrenheit (or 0 degrees Celsius). Boiling water at sea level would be 212 degrees Fahrenheit (or 100 degrees Celsius). However, the boiling point of water can be affected by both elevation and barometric pressure. Luckily, Thermoworks has a handy tool for calculating the boiling point of water at your local elevation and barometric pressure. When I punch in my current elevation of 3373 feet above sea level and barometric pressure of 30.20 inHg, the boiling point of water is calculated to be  206.4 degrees Fahrenheit.
When testing the ChefAlarm probe in ice water, the results were bang on at 32 degrees Fahrenheit. The result of the boiling water test was also bang on considering my relatively high elevation.
Easy-To-Read Cooking Thermometer Display With Large Buttons
The Thermoworks ChefAlarm features large buttons, which is great as the last thing you want to do when you are in a hurry in the kitchen is to be fumbling with tiny buttons. The display is large with large bold type and it contains a surprising amount of information; the ChefAlarm always displays the current temperature, maximum temperature recorded, minimum temperature recorded, low alarm, high alarm, and a timer.
A Thermometer That's Easy to Read in the Dark and Hear in Noisy Kitchens 
The ChefAlarm comes with a simple count-down timer that you can set to a maximum of 99 hours and 59 minutes (long enough for pretty much any cook). You can also start a count-up timer by simply turning on the alarm when it's set to zero.
The ChefAlarm can easily be seen in the dark by pushing a button with a lightbulb on it; this will illuminate the backlight for 20 seconds; perfect for late night grilling sessions. The ChefAlarm's volume can also be adjusted all the way up to 92dB; at its maximum volume, it can easily be heard through noisy environments such as commercial kitchens or a loud backyard party.
Change Temperature Settings and Calibrate Your Thermometer Easily
If you flip your ChefAlarm around to the back, you can change the temperature settings to either Fahrenheit or Celsius with a push of a button. You can also calibrate the thermometer easily by pushing the calibrate button. When you turn off your ChefAlarm, it will remember your temperature and alarm settings, so you only have to dial in your settings once.
A Thermometer That Works With Induction Cooktops
The ThermoWorks ChefAlarm is great for induction cooktops. Some electronic thermometers' displays can blank out when used on induction; however, the ChefAlarm's included probe has a cable length of just under 4 feet (47 inches). This way you can place it far away from your induction range and avoid any electromagnetic interference. I have both a full-sized induction range and a pair of Breville Polyscience Control Freaks (portable induction cooktops) and have had no issues using the ChefAlarm with either of them.
Additional Specifications for the ThermoWorks ChefAlarm
The ChefAlarm is IP65 (excluding probe connector) splash proof. It comes in 9 colors, including white, yellow, green, red, blue, black, orange, pink, and purple (I chose orange and purple as I like the color combination). The ChefAlarm has a temperature range of -58 to 572°F (-50 to 300°C), but the cooking probe cable can withstand a maximum temperature of 700°F (370°C). The temperature reads out in 0.1 degree increments, which is known as its resolution. It is accurate within ±2°F and it takes 2 AAA batteries. The ChefAlarm has an overall battery life of 5000 hours (~1 year depending on how heavily it is used).
The ChefAlarm comes with a zippered carrying case that holds the probe, the display, the probe clip, and a handy temperature guide.
Sizzle and Sear Kitchen Equipment Deal
Alerts In Your Inbox
Final Verdict: The Best Leave-In-Food Thermometer for Ease-Of-Use and Durability
Overall, I highly recommend the ThermoWorks ChefAlarm as a leave-in-food or leave-in-oven thermometer. Sure there are cheaper alternatives out there, but the ChefAlarm has an incredibly durable build quality, it's extremely accurate, and it's very reliable; all what you'd expect from a piece of commercial kitchen equipment. All the other bonus features, such as high and low temperature alarms and records, make it even more valuable. And it's magnet and foldability makes it easy to use in almost any setting.
ThermoWorks just announced the release of a new thermometer with an innovative feature that displays the average of your oven's air temperature.
Read More »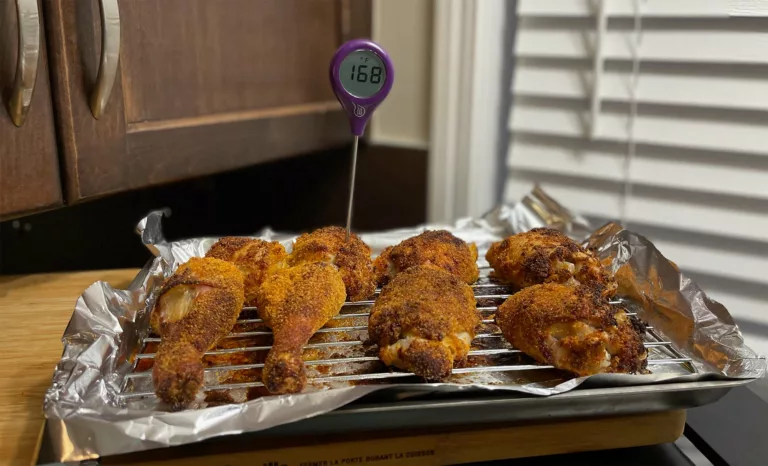 The ThermoWorks ThermoPop 2 can be a handy thermometer; find out why.
Read More »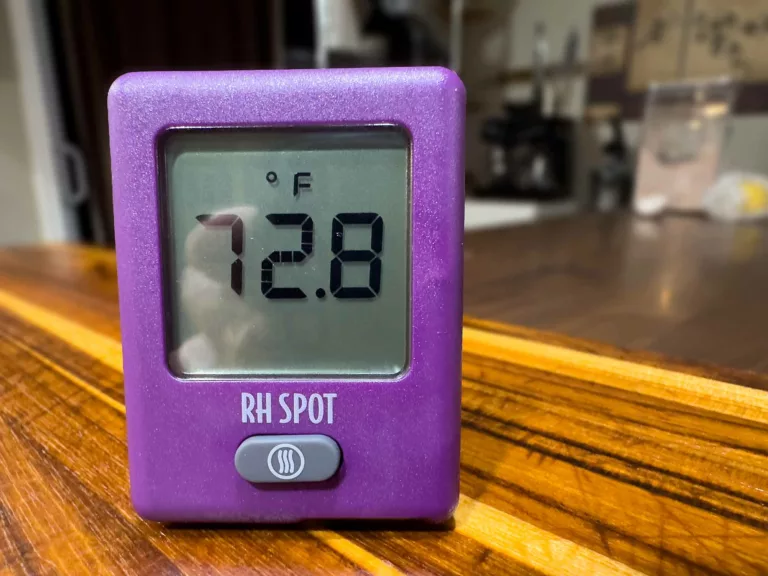 Get accurate temp & humidity readings with ThermoWorks' new RH Spot thermo-hygrometer—perfect for fridges, greenhouses, wine cellars & more!
Read More »