Sizzle and Sear's Rating:
I am a huge fan of ThermoWorks and have been one ever since trying and buying the Thermapen almost a decade ago. Their products provide ultra quick temperature readings and are durable enough to make it through the abuses of the kitchen.
ThermoWorks just recently released the ThermoPop 2, a sequel to their very successful ThermoPop thermometer.
The ThermoPop 2 is budget friendly and provides the ultra fast temperature readings I've become accustomed to on my Thermapen. It has a backlit 1 1/4-inch, auto-rotating screen, and is accurate ±1°F (±0.5°C). And it's just as durable and water proof as their other products.
The ThermoPop2 comes with a sleek probe protector that can be attached to the thermometer when not in use.
ThermoPop vs. ThermoPop 2
On the surface, both the ThermoPop and ThermoPop 2 look very similar; however, the ThermoPop 2 comes with some new features, including:
a larger improved display that automatically rotates with 0.1 degree resolution
overall thinner design
faster temperature read times; 2-3 seconds vs. 3-4 seconds
improved backlight
NSF certification
NIST calibration


The ThermoPop 2 also works on induction stovetops, which is an improvement over the original ThermoPop.
ThermoWorks ThermoPop Review
I've been using the ThermoPop 2 for several weeks now and find myself grabbing for it frequently, even though I own a Thermapen. 
Thermapen vs. ThermoPop
Why do I choose the ThermoPop 2 over my dependable Thermapen? Well, it can be placed into food and then left there, unlike the Thermapen which wouldn't be able to support itself. The display of the ThermoPop 2 is like a little label with a live temperature reading. This is super useful when you are trying to keep food warm, cooling it down, or cooking something on the stove top and you want a constant readout without re-probing the food.
Of course, a traditional wired thermometer, like the ThermoWorks ChefAlarm, could be left in the food as well, but I like the simplicity of grabbing the standalone ThermoPop and just popping it into the food… no tangled wires to deal with! However, there are situations where the ThermoPop would be less ideal. For example, you can't leave the probe inside a turkey that's inside a hot oven; the plastic and electronics wouldn't fare well!
All in all, the ThermoWorks ThermoPop 2 has found a place in my kitchen and I highly recommend it to other cooking enthusiasts.
A durable and accurate leave-in-food thermometer that's built for the commercial kitchen. Is it worth it for home cooks?
Read More »
ThermoWorks just announced the release of a new thermometer with an innovative feature that displays the average of your oven's air temperature.
Read More »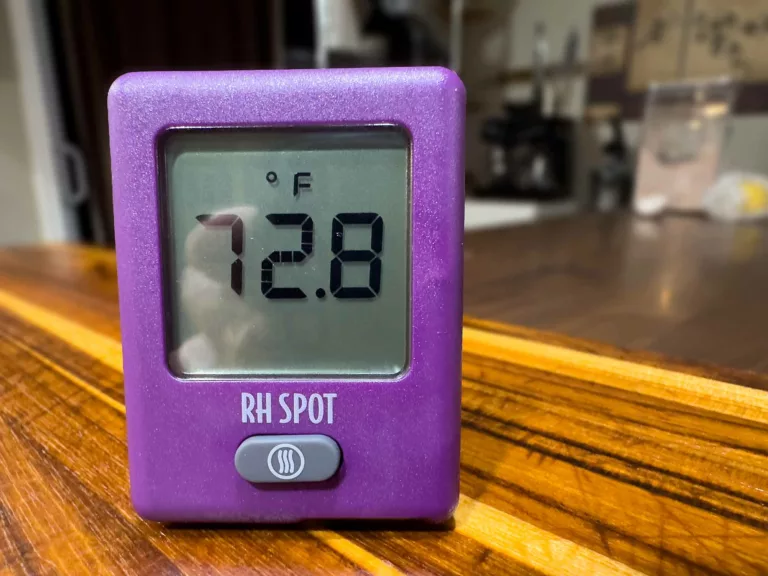 Get accurate temp & humidity readings with ThermoWorks' new RH Spot thermo-hygrometer—perfect for fridges, greenhouses, wine cellars & more!
Read More »