Sizzle and Sear's Rating:
ThermoWorks recently released a new thermometer, or more specifically, a digital thermo-hygrometer: the RH Spot.
ThermoWorks is the manufacturer of the incredibly popular Thermapen known for it's accuracy, ease of use, and durability. I, myself, am an avid user of ThermoWorks products (see my reviews of the ChefAlarm, Square Dot, and ThermoPop 2), so I know that they produce quality products that are both accurate and last a long time.
A thermo-hygrometer is a device that measures both temperature and humidity, or more simply how hot or cold something is and how much water vapor is in the air.
Overall, the Thermoworks RH Spot has the same durable feel as ThermoWorks' other products. I especially liked how it's a stand alone unit and how easy it was to place in my fridge so that I can double check that the fridge is at the right temperature; no need for wires!
The RH Spot cycles between humidity and temperature readouts every 5 seconds. It also records the highest and lowest readouts, which can easily be accessed by holding down the button on the front of the RH Spot.
The RH Spot can either be supported by itself, or it can be attached to a metal surface via the magnet in the back; it even comes with metal mounting plate, so you can place it virtually anywhere! The display autorotates, has large text, and includes a backlight, so it's easy to read in any situation.
The Thermoworks RH Spot has a measuring range of -13 to 122°F (-25 to 50°C) and a temperature accuracy of ±1.8°F (±1.0°C). The resolution is 0.1° from -19.9 to 99.9° and 1° otherwise. The humidity accuracy is ±2% between 20 and 70% and 3% otherwise. The reading update is every 10 seconds and the response time is 30 minutes. It has an IP65 water resistance rating and can be used in a temperature range of -13 to 122°F (-25 to 50°C). It is powered by a CR2032 lithium coin cell battery (included) which has an approximately 5,000 hour lifespan. The display is 1.3 inches (32 mm) and the product size is 2.4" H x 1.8" W x 2.0" D (60mm H x 46mm W x 50mm). It comes with a NIST-traceable calibration certificate.
Why do I need a thermo-hygrometer, like the ThermoWorks RH Spot?
The RH Spot can be used in a variety of settings, including: fridges, freezers, food storage, wine cellars, cheese caves, meat lockers, dough proofing boxes, greenhouses, rare gun or guitar collections, and humidors.
Fridge/freezers/food storage: Fridges and freezers need to have their temperature monitored in order to ensure food doesn't spoil. Humidity can also effect the quality of food stored in a fridge, freezer, or pantry; namely through texture and shelf life. For example, high humidity may cause some soft foods to go soggy, while low humidity can cause some foods to become dry and withered.
Wine cellars: Temperature and humidity play an important role in the storage and aging of wine. The RH Spot can be used to ensure that the wine is being stored at the optimal temperature and humidity level.
Cheese caves: Temperature and humidity impact the aging and flavour development of cheese. Cheese making involves the growth of bacteria; temperature and humidity need to be at optimal levels to ensure proper aging and flavour development and to prevent the growth of unwanted bacteria.
Meat lockers: Meat needs to be stored at certain temperatures and humidity levels to ensure its quality and safety. Improper storage of meat can result in the growth of pathogens that can make people seriously ill and can ultimately lead to death.
Dough proofing boxes: Proofing, also known as fermentation, has optimal temperatures and humidity levels. The exact temperature and humidity level depends on the type of dough.
Greenhouses: Temperature and humidity plan an important role in the growth of plants. You can use the RH Spot to monitor these conditions and to ensure that the greenhouse is being maintained at the optimal temperature and humidity level.
Rare gun or guitar collections: Too much heat or humidity can cause guns and guitars to rust or warp. For example, high humidity and temperatures can cause wood to warp and metal to rust. Low humidity and low temperatures can cause the same materials to become dry and brittle. Maintaining an optimal temperature and humidity level is key to the storage of these delicate items.
Humidors: Humidors are used to store cigars; the RH Spot can be used to maintain a specific humidity level to preserve the cigars' flavor and quality.
The ThermoWorks RH Spot is a fantastic digital thermos-hygrometer. It's versatile, reliable, and perfect for a variety of applications. Whether you are monitoring the temperature and humidity in your fridge or freezer or have a collection of rare artifacts you want to keep in pristine condition, the RH Spot will monitor temperature and humidity in an effortless way. So why wait? Get your own RH Spot today and take control of temperature and humidity!
If you found this ThermoWorks RH Spot review useful, be sure to read my review of other ThermoWorks products:
A durable and accurate leave-in-food thermometer that's built for the commercial kitchen. Is it worth it for home cooks?
Read More »
ThermoWorks just announced the release of a new thermometer with an innovative feature that displays the average of your oven's air temperature.
Read More »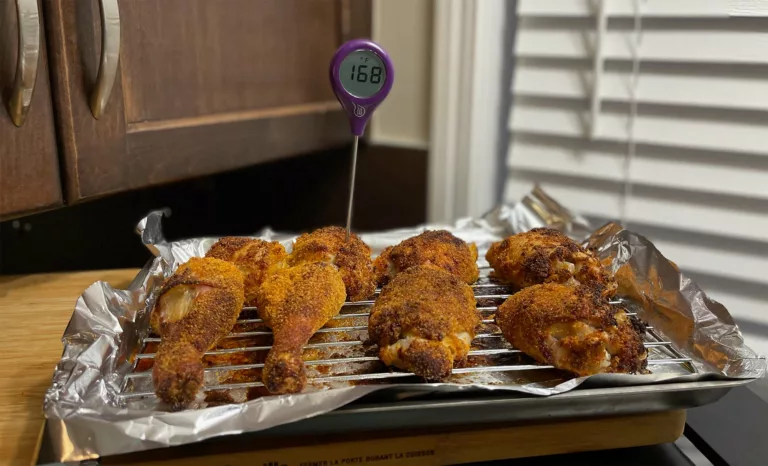 The ThermoWorks ThermoPop 2 can be a handy thermometer; find out why.
Read More »