ThermoWorks announced today the release of a new thermometer, the ThermoWorks Square DOT; borrowing part of its name from its popular DOT Simple Alarm Thermometer.
The ThermoWorks Square DOT has two separate channels for two different probes, with one of the channels featuring an air temperature average function.
The first channel of the Square DOT acts as a regular alarm thermometer. The second channel of the Square DOT can act the same as the first one, but it's got an interesting new feature called "average mode".
In the Square DOT's average mode, an average air temperature over the past 15 minutes is displayed once a set target temperature is reached. It is a revolving measure, so the Square DOT should give you real time updates if temperature fluctuations are causing changes in the average, but it should be much easier to interpret than just a single real time measurement that constantly fluctuates in most home ovens.
The Square DOT is manufactured by ThermoWorks, which is a proven manufacturer of quality kitchen thermometers including the Thermapen. ThermoWorks products are designed for the commercial kitchen, so they'll be extra durable and dependable in a home kitchen. Be sure to read my detailed review of the ThermoWorks ChefAlarm, my ThermoPop 2 review, and my RH Spot review.
I currently have a separate stand alone thermometer inside my main home oven as I find it frustrating that the oven's display will only show one temperature and it never fluctuates. In reality, I know my oven temperature constantly fluctuates. And not only does it fluctuate, I'm pretty certain the average temperature of my oven is off from the set temperature.
The ThermoWorks Square DOT seems promising as it will allow me to calculate the average of the oven's temperature fluctuations with certainty, and I'll be able to adjust my oven's set temperature accordingly to reach the average temperature that a recipe calls for.
I could also see this being very useful on gas, pellet, or charcoal grills. You will get the best cooking results if the average of your cooking device's fluctuations matches the temperature you set on the dial, but oftentimes this is not the case; this is where the ThermoWorks Square DOT has the potential to be incredibly useful.
The ThermoWorks Square DOT features big easy-to-read digits on a backlit display. The thermometer's display is splashproof and features a durable commercial-grade plastic body. The Square DOT has a fold-out stand and a magnetic back, making it easy to mount just about anywhere. The thermometer comes with a 4.5-inch Pro-Series High Temp Straight Penetration Probe with 47-inch cable and a Pro-Series High Temp Air Probe and Grate Clip; however, it will also accept any of the optional ThermoWorks Pro-Series probes.
The Square DOT is available in a variety of colors, including: white, yellow, green, red, blue, black, orange, pink, and purple. A two-year warranty is provided at the time of purchase.
I have a ThermoWorks Square DOT being shipped to me, and I can't wait to try it out and write a detailed review about it. Until then, I hope this overview of the Square DOT has been useful and sparked your interest.
Sizzle and Sear Kitchen Equipment Deal
Alerts In Your Inbox
A durable and accurate leave-in-food thermometer that's built for the commercial kitchen. Is it worth it for home cooks?
Read More »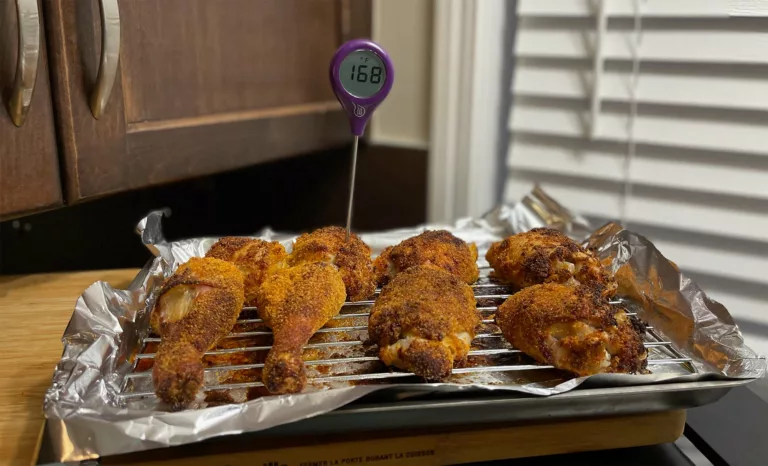 The ThermoWorks ThermoPop 2 can be a handy thermometer; find out why.
Read More »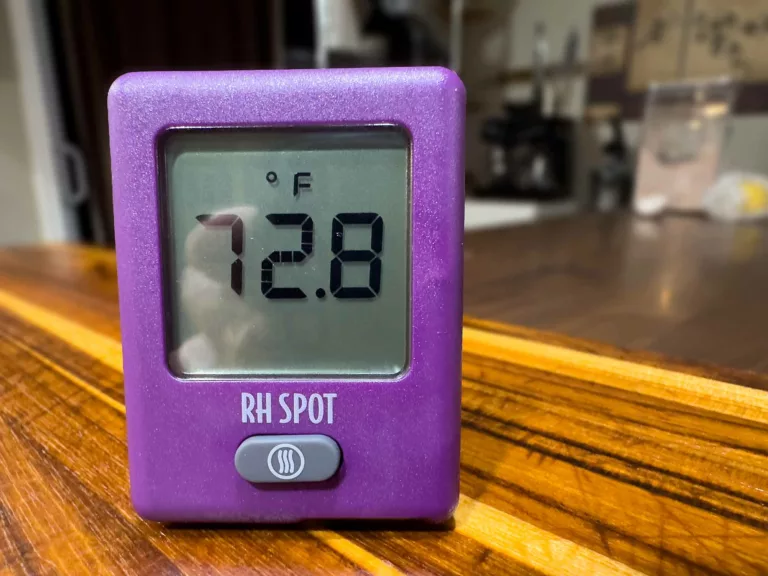 Get accurate temp & humidity readings with ThermoWorks' new RH Spot thermo-hygrometer—perfect for fridges, greenhouses, wine cellars & more!
Read More »